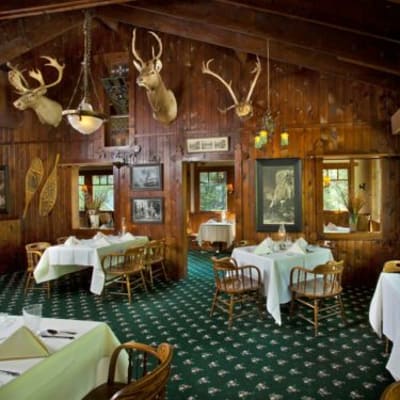 Dining Hall & Buffalo Bar
WINTER SCHEDULE:
Open Friday and Saturday ONLY for dinner at Narrow Gauge Inn
Breakfast is open 7 days per week during WINTER
----------------------
Branding Iron Restaurant and Bar is Open 7 days per week and located less than 10 minutes South of our location.
-----------------------
Restaurant & Bar is open!
Bar opens at 5:00 pm and dinner starts at 5:30 pm
Breakfast is served 7:30 am-9:30 am 7 days a week all year. Only $9.99, open for all travelers and locals in the area.
"Excellent food coupled with knockout views make the dining experience at the Narrow Gauge Inn one of the finest in the Yosemite region."
-Lonely Planet Travel Guides
Dinner is served in our enchanting Dining Room where good cheer, romance and old fashion hospitality greet our guests. Stone fireplaces, antiques and authentic lodge decor set the mood for an intimate gathering for two or more. Large gatherings for weddings, extended families, or business meetings can be accommodated in one or more of our dining rooms.
Great fires of pine, cedar and oak warm our guests as they dine on the area's finest Angus filets, fresh seafood and succulent chicken.
Our delectable desserts are sure to entice you with the richest pastries, ice cream and pies. Lively spirits, ales, and fine wines are served in our Buffalo Bar under the watchful eyes of big game bison.
Reservation highly suggested, please contact us - call (559) 683 7720.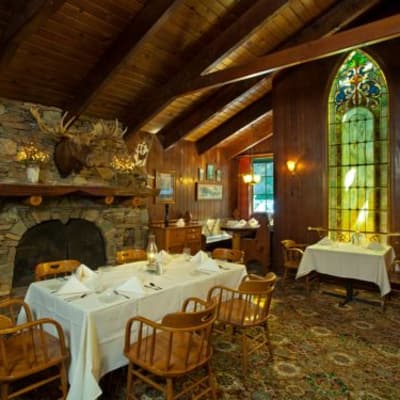 Appetizers & Salads
Come Taste what Chef Ryan Simas has Created
Starters
Sashimi of Hawaiian Ahi Tuna $15
Bay sea beans, kaiware sprouts and a sake cream
Duck Liver Mousse $16
Sour Michigan cherry jam, shaved prosciutto, cornichon pickles
Tartare of Beef Filet $17
Whole grain mustard, quail egg with baguette crostini
Living Butter Lettuce Salad $15
Baby beets, petite sprouts and stilton vinaigrette
Chilled Valley Asparagus $15
Baby arugula, toasted shaved almonds with lemon-shallot vinaigrette
Warm Appetizers
English Pea Risotto - $14
Roasted shallots & garlic, petite pea sprouts
Truffled Mac & Cheese $15
Gruyere cheese with garlic gremolata
Soup of the Day - $11
Executive Chef- Ryan Simas
Vegan & Vegetarian options available
Consuming raw or undercooked meats, poultry, seafood, shellfish, and/or eggs may increase your risk of foodborne illness.