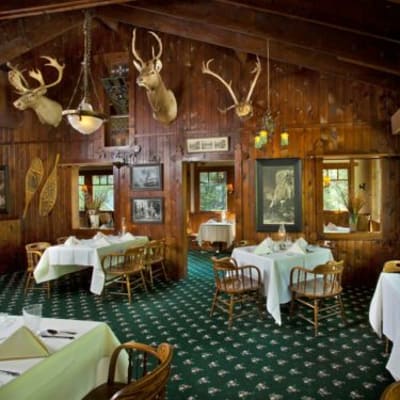 Dining Hall & Buffalo Bar
Restaurant & Bar is open!
Winter Hours (December to April 12th) - 5pm to 9pm (Friday & Saturday only)
Spring/Summer Hours (April 13th to November) - 5:30pm to 9:30pm (Tuesday thru Saturday)
Breakfast is served 7:30am-9:30am 7 days a week all year.
"Excellent food coupled with knockout views make the dining experience at the Narrow Gauge Inn one of the finest in the Yosemite region."
-Lonely Planet Travel Guides
First & Second Tastes
Third Tastes
Dinner is served in our enchanting Dining Room where good cheer, romance and old fashion hospitality greet our guests. Stone fireplaces, antiques and authentic lodge decor set the mood for an intimate gathering for two or more. Large gatherings for weddings, extended families, or business meetings can be accommodated in one or more of our dining rooms.
Great fires of pine, cedar and oak warm our guests as they dine on the area's finest Angus filets, fresh seafood and succulent chicken. Our delectable desserts are sure to entice you with the richest pastries, ice cream and pies. Lively spirits, ales, and fine wines are served in our Buffalo Bar under the watchful eyes of big game bison.
Reservation highly suggested, please contact us - call (559) 683-6446 or (559) 683 7720.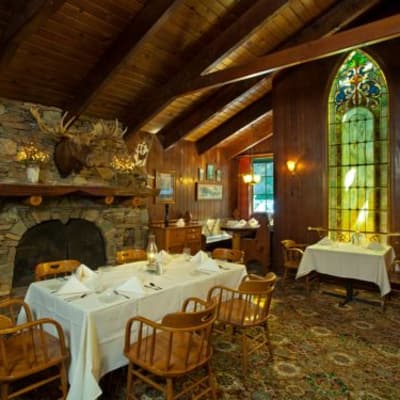 Appetizers & Salads
Come Taste what Chef Greg Carroll has Created
First Taste
Crab Cakes - $16
Fresh crab mixed with herbs, bread crumbs topped with lemon aioli

Ahi Tuna Tartar - $16
Ahi tuna with lemon capers & fresh herbs served with avocado and toasted baguette

Stuffed Portabella Mushroom - $12
Roasted mushroom with sautéed artichoke hearts, fresh spinach topped with seasoned panko bread crumbs served with Roasted red pepper pesto

Ceviche - $14
Citrus marinated shrimp, cucumber, avocado, tomato, cilantro, and lime with tortilla chips

Steak Bites - $14
Beef with Wild Mushrooms on crostinis with arugula and provolone

Soup of the Day - $11

Second Taste
Strawberry Rhubarb Salad - $15
Arugula and spinach tossed with fresh strawberries, pickled strawberries,
pickled rhubarb, shallots, house made granola, and goat cheese in a strawberry vinaigrette

Spinach Salad - $14
Spinach, caramelized red onions, pears, candied walnuts, braised pork belly, Shallot vinaigrette

Smoked Salmon Panzanella - $14
Smoked salmon, arugula, toasted bread, cucumber, capers, and dill cream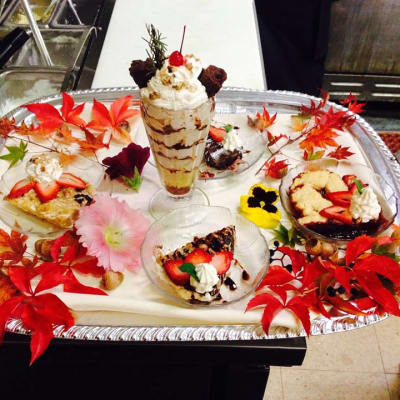 Fudge Chocolate
Granulated Sugar 4 ½
CupsSalt ½ TeaspoonButter 2 Tablespoons
Evaporated Milk 1 Cup
Semi Sweet Choc. Bites 12 oz.
German Sweet Choc. 12 oz.
Marshmallow Fluff 1 Pint
Walnut Pieces 2 Cups
Boil first four ingredients together for six minutes.
Combine the next four ingredients in a stainless steel bowl.
Pour the boiling syrup into the stainless steel bowl and stir until combined.
Place on a grater sheet pan with parchment paper which has been buttered with raw butter and let cool.
Cut and cover with plastic wrap.
Recipe will back approx. 60 pieces