Frequently Asked Questions
Please Read
What type of events can we have on the Narrow Gauge Inn property
Weddings, Dinners, Banquets, Receptions, and more. Most events cost $500 for the location fee. This requires a $250 non-refundable deposit. We do not offer specific packages. We work with you to create something that fits best.
Do you have non-smoking rooms?
Every room is non-smoking, with smoking allowed outside on your balcony or deck. The entire restaurant is also non-smoking, including the patio.
Do you offer any AAA or AARP discounts?
The Narrow Gauge Inn does not offer these discounts. However, we do honor a 10% discount for U.S. military Veterans. (Must present VA Card as proof)
What if we forget something at your hotel
Shipping cost is paid by the Guest. Also, a $25 handling fee will be added to any items shipped back to a guest. Our staff will need to pack it, transport to Post Office, and ensure your lost items make it back to you.
Do you accept pets?
We welcome well behaved pets in specific rooms for a non-refundable fee of $25.00 per pet, per stay. Pets may not be left alone in your room, unless you are elsewhere on the Inn property. http://www.secure-res.com/res/vn4/checka.aspx?hotelid=3854"> Click here for the rest of our pet policies.
What is the best time of year to visit?
Each season brings it's own special beauty. We feel that any time you are able to visit is a great time to come!
The early spring brings thundering waterfalls and a bit later in the spring and early summer offers abundant wildflowers and crisp evenings. Keep in mind that the weather in spring can be vary from snow storms to warm days. Tire chains may be required.
Late in the summer, the main waterfalls in Yosemite Valley tend to be dry, however there is more access to the high country and all facilities within the park are open.Fall brings a rainbow of colors as the trees begin shedding their leaves. Typically, the days are comfortable with cool evenings.
Winter is a very special time in the area. Snow blankets the mountains and there is a special beauty to the quiet atmosphere. Badger Pass, Yosemite's ski area, is open and some of the nearby activities include downhill and cross country skiing as well as sleigh rides, ice skating and snow mobile rentals. It is required by law to carry tire chains when entering the National Park during winter months, so be prepared.
Click here for current conditions.
Click here for average monthly temperatures.
Click here for current road conditions.
What is included with the $9.99 hot breakfast?
We offer a hot breakfast in our Restaurant which includes: scrambled eggs, sausage, rosemary potatoes, hard boiled eggs, muffins and breads, cereal, oatmeal, yogurt and a fresh fruit. We also have a variety of hot and cold beverages.
May we bring a BBQ or microwave to prepare our own meals?
We do not allow BBQ's, Hibachi's or Hot Plates however, should you need to warm your food or have medication that requires refrigeration our front desk staff would be happy to assist you during regular business hours. There is also a nice picnic area called "Westfall" located approximately 1 mile south of the Inn which has a public BBQ, picnic tables, trash receptacle and public restrooms.
Do your rooms have a safe?
Safe deposit boxes are also available at the front desk during office hours.
Do you charge for parking?
No, we do not have fees for parking, however due to limited space, we are unable to accommodate motor homes or vehicles with trailers.
Do you have guest laundry facilities?
We do not have laundry facilities. Self service Laundromats are available in Oakhurst, 12 miles south of the Inn.
Do you have internet?
Yes, we offer free WiFi
How can I make reservations?
You may click >HERE to book online now, or you may telephone the Inn at 559-683-7720 to speak with a reservation agent.
Pet Policy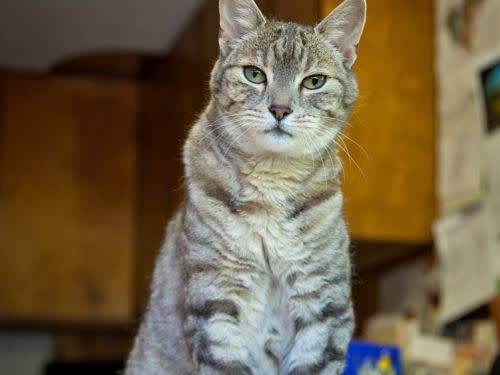 Only certain rooms are designated as pet friendly, so it is important you inform us if you are bringing your "best friend" with you.
We charge a one time, non-refundable fee of $25.00 plus tax for each pet staying with you.
We allow a maximum of 2 pets per room.
You are responsible for any damage your pet may cause to a room or the property of the Narrow Gauge Inn.
Upon arrival, your pet will be welcomed with a doggie bowl and doggie treats. There is a lovely, short nature trail we are sure you and your pet will enjoy. Your dog is even welcome to ride with you on the Yosemite Mountain Sugar Pine Railroad at no charge!
Anytime your pet is outside the room, it must be kept on a leash as we have wild animals that live in the area and we want both your pet and the local animals to stay safe. Please clean up after your pet. Scoopers are provided with your dog's treats and more are available at the front desk. Pets may not be left unattended in your room unless you are on the Narrow Gauge Inn property.
Should housekeeping discover your pet is left unattended in your room, you will receive no housekeeping services for that day and you will be responsible for any damages that may be caused by your pet.
In Yosemite, leashed dogs are allowed on the approximately 2 miles paved trails of Yosemite Valley. Dogs are not allowed on any other trails in Yosemite, however there are many sights to see from the paved trails in the valley, including the impressive waterfalls, cliffs and rock formations. During the summer months, there are kennels available in Yosemite if you wish to venture further without your pet.